Tull's Ian Anderson reflects on his 'Metal' Grammy win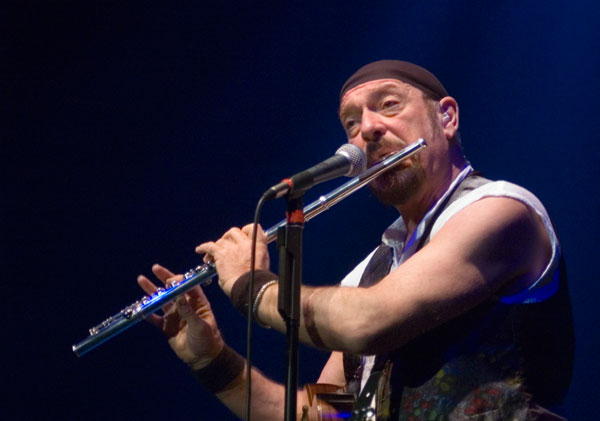 The National Academy of Recording Arts and Sciences recognized hard rock and heavy metal artists a little late in the game — awarding the Best Hard Rock/Metal Performance Vocal or Instrumental at the 31st Grammy Awards in 1989. That year Jethro Tull won the Grammy for the Crest of a Knave album. Metallica was the favorite to get the award for their album …And Justice for All — and it showed by the stunned look on the audience's faces (including the musicians in Metallica) when Jethro Tull's name was called instead.
With the 2012 Grammys coming up this Sunday, Powerline asked Jethro Tull's vocalist Ian Anderson to recount that historic day when Jethro Tull was given the award for best hard rock/metal performer.
"I probably get (the question) a lot more when I'm talking to American writers than I do over here," says Ian Anderson from his English home. "It's not really a big deal over here. It was in a year where it was a new category for Hard Rock forward slash Metal and that category still exists today … and we were, for some strange reason, nominated. And at the time no one paid any attention to the fact that we were nominated. There was not a peep out of anyone. Because they thought there's no way Jethro Tull are gonna win it. Nor Iggy Pop, nor Jane's Addiction. It's going to be Metallica because they were the huge, new, straight-out-of-the-box, enormous, hit talent that year and everybody took it for granted that Metallca were gonna win the Grammy, including Metallica themselves. And when it was ordered to Jethro Tull, to a barrage of boos and hisses and gasps of disbelief, I'd like to think that it wasn't that the six thousand voting members of the National Academy of Recording Arts and Sciences were voting for Jethro Tull as a heavy rock band or a heavy metal band. They gave us the award because we were a bunch of nice guys who never won a Grammy before. And sad to relate, even after all these years, there is still no category for best one-legged flute player. Otherwise, I'd be winning it every year."
Even though wrongly categorized, maybe the Crest of a Knave album deserved to be awarded. "Well, it was a pretty good album. It had some good tunes on it," says Anderson, "but I don't think anyone would possibly believe it was a hard rock or heavy metal album. But what the hell? It's just one of those moments."
"And as we said at the time," Anderson continues, "Metallica were an exciting new band. and they will be sure to win the Grammy next year and indeed they did. And to prove the point that heavy metal bands do have a sense of humor, they took out a full page ad in Billboard when they won the Grammy, thanking their record producer, their record company, their mums, their dads, their brothers, the family dog and Jethro Tull for not bringing out a new album that year."
Did Anderson ever get to speak to Metallica about the experience? "No, I never actually met them," says Anderson, "but I'm sure they'd be delightful and humble characters."
Ian Anderson is about to go on tour for his latest Jethro Tull release, Thick as a Brick 2, a sequel to 1972's concept album Thick as a Brick. TAAB2 (released on the 40th anniversary of TAB) is the continuation of the story of the fictitious boy character named Gerald Bostock. In the sequel, Gerald grows up (aged fifty in 2012) to the revelation of many different fates. Thick As A Brick 2 will be released as a standard jewel case CD and digital download, and in a Special Edition 2-disc package with DVD featuring 5.1 stereo mixes, 24-bit stereo mix, video of the making of the album, interviews with the musicians and Ian Anderson reading the lyrics in various locations. The TAAB2 world tour will take up most of 2012, and it begins in the U.K. in April. Check for updates on www.jethrotull.com
The 54th Grammys will be held Sunday night, February 12 at 8 p.m. est.