Twisted Sister continue to celebrate a 'Twisted' Christmas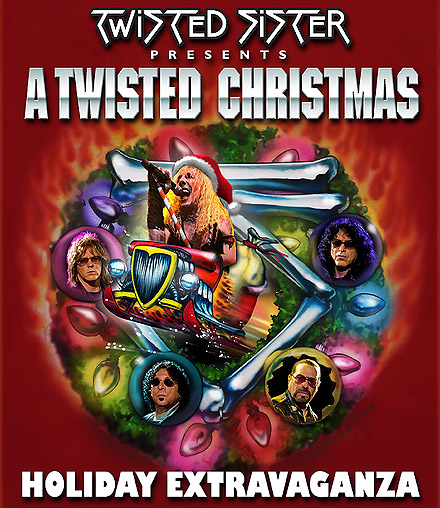 Twisted Sister hosts a holiday party, with the promise of "glad tidings and good cheer to folks of all ages." Get ready for the 2011 Presentation of "A Twisted Christmas" – a Theatrical Holiday Extravaganza like no other to be held on Friday, December 2 at the Paramount Theater in Huntington, NY, and The Best Buy Theater in NYC on Saturday, December 17.
Dee Snider, Jay Jay French, Mark Mendoza, Eddie Ojeda, and A.J. Pero have crafted this show into a hell-raisin' holiday tradition. In the past, they've had such wildly disparate personalities as Lita Ford, Mick Foley, and MiniKISS join the onstage festivities -You never know who will crash this NYC party.
After the release of 2006's A Twisted Christmas album (hailed by the Associated Press as "[one of] the best hard rock Christmas album[s] ever made, and one of the best rock 'n' roll Christmas albums — period — since Elvis made his,") Twisted Sister brought the metal merriment to the stage. They have continued to give these Yuletide anthems a Twisted treatment ever since. "White Christmas," "Come All Ye Faithful," and "Deck The Halls" have never sounded so electric.
"If you told me 30 years ago that one day I would be playing Christmas songs, with Twisted Sister, for families in concert–and be happy about it–I would have punched you right in the nose. Funny how life changes you. Now I'm actually looking forward to it!" – Dee Snider
"There is no better way to blow your Christmas bonus than by seeing 'A Twisted Christmas' on Broadway. It's so good, even atheists love it!" – Jay Jay French
Make sure to get to the venue early to catch openers Jac&Jill (www.jacandjill.com). Fronted by ferocious femmes Jaclyn Quatela (vocals/keyboards) and Jill Winter (guitar), this sextet blends violin, bass, drums and synth into a riff-heavy brand of pop rock.
The celebration doesn't end there. For a taste of what's in store, fans should check out Twisted Xmas: Live In Las Vegas, exclusively featured on the band's brand new eight-hour-plus boxed set, From The Bars To The Stars (Eagle Rock Entertainment).
The Paramount Theater is located at 370 New York Avenue in Huntington, NY. The show starts as 7:00PM. Ticket prices range from $52 to $74.
The Best Buy Theater is located at 1515 Broadway at West 44th Street, right in the heart of Times Square. The show starts at 8:00pm(doors open at 5:00 p.m.) Tickets are $35.
For more information, visit www.twistedsister.com