Obscura progresses into 2012 with complex themes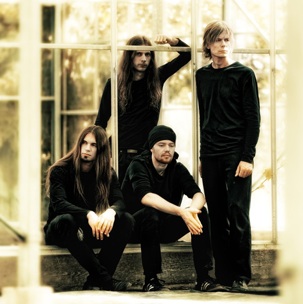 Obscura is often called a technical death metal band, but they really appear to be a progressive metal band at heart. Extreme and complex music, with intelligent themes in their lyrics, the band does not disappoint those who want to be challenged by the music they listen to.
Founded by guitarist/vocalist Steffen Kummerer in 2002, Obscura has had many lineup changes in a very short period of time — the latest is the addition of bassist Linus Klausenitzer  — but Kummerer emphasizes how strong Obscura will continue to be. Their latest record, Omnivium, pleases many an extreme metal fan while opening up new ears in the progressive genre.
The band has been labeled "technical death metal" — what has been your general  reaction to that?
Steffen Kummerer: To describe a band and their certain sound you need terms like that. In general, I would not see Obscura as a technical death metal band. We try to write good and memorable songs with diverse and uncommon arrangements. Also, compared to other bands of the genre, I see this band with a more broader background than only technique to show. From my point of view progressive death metal would fit best, but in the end it does not matter how you label a band – the music is the only thing that counts.
What does Linus Klausenitzer add to the band?
Kummerer: Linus is a professional bassist with a huge history of projects from jazz to pop to classic to all extremes of metal music, and (he has) a pro attitude to everything he starts. We know each other since many years and especially his cooperation with the band Noneuclid impressed me pretty much. Noneuclid is basically a metal band that plays shows mostly with huge orchestras, one of the most interesting and unique bands on the planet. Linus proved his skills and social behaviour within a full European and North American tour during stressful situations and I am glad the band — as well as our fans — accepted him as new full time member so quickly. The next step is his performance on the new album we are working on right now. He is fully integrated into the songwriting and the whole process to bring our vision to life.
Why didn't Steve DiGiorgio or Jacob Schmidt work out as far as permanent bassists?
Kummerer: Both, Jacob and Steve did stellar jobs during their shows with us and I am very glad they helped us out when our former bassist was not able to play those tours. Jacob Schmidt is a fretted bassist and has a very promising future with Germany's finest brutal death metal band Defeated Sanity. With Jacob we had a good time and also great feedback during our European tour alongside Cannibal Corpse — with his style the tunes sound a bit more crisp and the intonation was always correct. In the end Jacob is still working with Defeated Sanity and I hope they will get the attention they deserve. With Steve DiGiorgio we had a great experiece within our Japanese tour in 2010, but Steve is not into long tours anymore and prefers to play on different recordings. With Obscura we are into a 100+ show schedule per year, so I can understand his step. In any way, we are still in touch and may work on another project by time.
And Bassist Jeroen Thesseling had to leave because of "professional and musical differences" Can you elaborate?
Kummerer: There where many reasons why three members of Obscura decided to end the cooperation with Thesseling. We accepted too many things and laid down too many issues within time. In the end there was no other way than to end this farce and leave him before closed doors and look for somebody reliable. Within a band you have to work as a team, only together and in balance you can reach your aims. I wish him good luck with his other projects and bands.
There have been many musicians come and go since Obscura started, has that been frustrating or just a natural evolution?
Kummerer: It always was a combination of both mentioned. While we had plenty of musicians come and go within the first years what was more a natural thing, the last four or five years where very constant but those who had to leave were frustrating issues. Due to our collection of old recordings for our 10 year anniversary I am in touch wih most of the old members again and there is not a single one who has any bad thoughts about that time. We are all looking back to the early days and can't be more glad that what we once started as a band among many others grew to an international respected and successful group. Without the natural evolution as well as the sometimes frustrating moments we won't be here and do an interview together. I am glad and thankfull to everyone who was involved in Obscura to make all this happen. Every single one brought his piece.
Explain the demo collection to be released, titled Illegimitation. Some listeners cherish a band's demos as much as the studio releases.
Kummerer: The demo collection contains recordings of three different sessions. Our very first demo, the more or less unreleased Illegimitation demo (2003), the preproduction for Cosmogenesis (2006) and three covers of bands that influenced us from the very first beginning up to this date: Cynic, Death and Atheist. This way you have the chance to get an overview about the bands evolution within the first ten years.
We decided to release it by our own and not through a label due to the fact that this is only interesting for the fans who already know our work of the three full length releases and ask for the history of Obscura. While the rerelease of our debut album Retribution sold, so far ,10.000 copies and many people asked me at shows or via email for our demos we thought it might be a nice gesture to release all those recordings for a small community of fans and also our friends and old band members.
In the end we had the idea to use a Kickstarter project to realize this idea with the voice of our fans. They can decide if this collection should be done or not. Personally I am not a fan of best of collections – sometimes it smells like a label just wants to make money with the leftovers of a band that split up or milk the cow of a group that left to another company. This way only the fans decide if they want to have those recordings or not. I guess this is fair for everyone.
The band has toured with some popular bands over the years — which band was the best to tour with?
Kummerer: We had many great tours with a huge number of bands, it is hard to pick out one or two and say they where the best or the most successful ones. Our European headlining tour in 2007 along Agonize was a great experience, the festival tour with Atheist was amazing and the first ever trip to Japan with Nile and Triptykon was outstanding. We still miss the very first EU tour with Suffocation, our trips with The Black Dahlia Murder, Cannibal Corpse, Children of Bodom and Devin Townsend – just too much to pick one. We always have a good time with the other bands, it doesn't matter if they are headlining or opening.
How is this current North American tour going?
Kummerer: The tour went well so far and with Abysmal Dawn, Last Chance to Reason and right now Enfold Darkness … we have some calm, down and smooth bands with us. Especially the co-headlining show with Cynic in NewYork was outstanding, among Edmonton, Seattle, LosAngeles and Portland. It seems that we have a strong fanbase in North America, something that is not very common for a foreign band. It feels better to play every night, a full set, and have the time to play more than 5-6 songs when you are support for a bigger band.
Where does the band receive the best reaction on tour?
Kummerer: So far New York, Seattle, Portland, Edmonton I remember as fantastic. There is barely a bad show to mention; the people that are attending are always totally into the music. Before and after the show we always are open for a chat or a drink and keep talking to everyone who is showing up. Sometimes you recognize somebody that drives for many hours just to see a concert which is a honour.
What was it like touring United Arab Emirates?
Kummerer: Fantastic. The whole South East Asia tour we did in September was unique and a great experience. We never thought there are so many people into our band and real die hard fans! The show in Dubai was great, everyone had a good time, the organization was professional as well as the circumstances overall. I am very thankfull for the invitation and I hope we can come back very soon and perform another time over there.
What were the successes and disappointments of previous tours?
Kummerer: It depends what are you expectations on a tour in general. There is no red carpet anywhere, you will not get rich and this rock star dream does not exist if you look behind the walls. A tour is always hard work with less sleep than you may expect and sometimes frustrating circumstances. But you play for those who are interested in your music, what you are doing and if they are satisfied, have a good time and can go home with a good mood and smile on their face … the show or the whole tour is a success.
Are you pleased with the way Omnivium has been received this year?
Kummerer: Yes, absolutely. The feedback from press, fans and friends was positive and quite unexpected due to the fact that Omnivium turned out way more complex and layered than the previous album.


Omnivium was said to be based on Friedrich Schelling's work. Not an easy philosopher to tackle. Do you think the fans got the gist of the album?
Kummerer: Maybe they do. Overall we are a metal band and metal fans are more interested in the music than in lyrics. Within the shows and all tours I talked to maybe ten people who asked for the meaning of the albums or songs, that trells a lot. Anyway, if there is something you can feel in the music I am glad, if you see the combination and the links in between lyrics, artwork, photos and music, I am happy and know the work was not for nothing.


Is the band writing new material for the next album? Will it be as ambitious as Omnivium?
Kummerer: We are collecting ideas for the next album, that is correct. But right now we are into the touring cycle for Omnivium and half way through our world tour for this album. Many more shows will be done before we head into the studio and start with the recordings.
For more information, go to www.realmofobscura.com