Blind Guardian's music perseveres through many different eras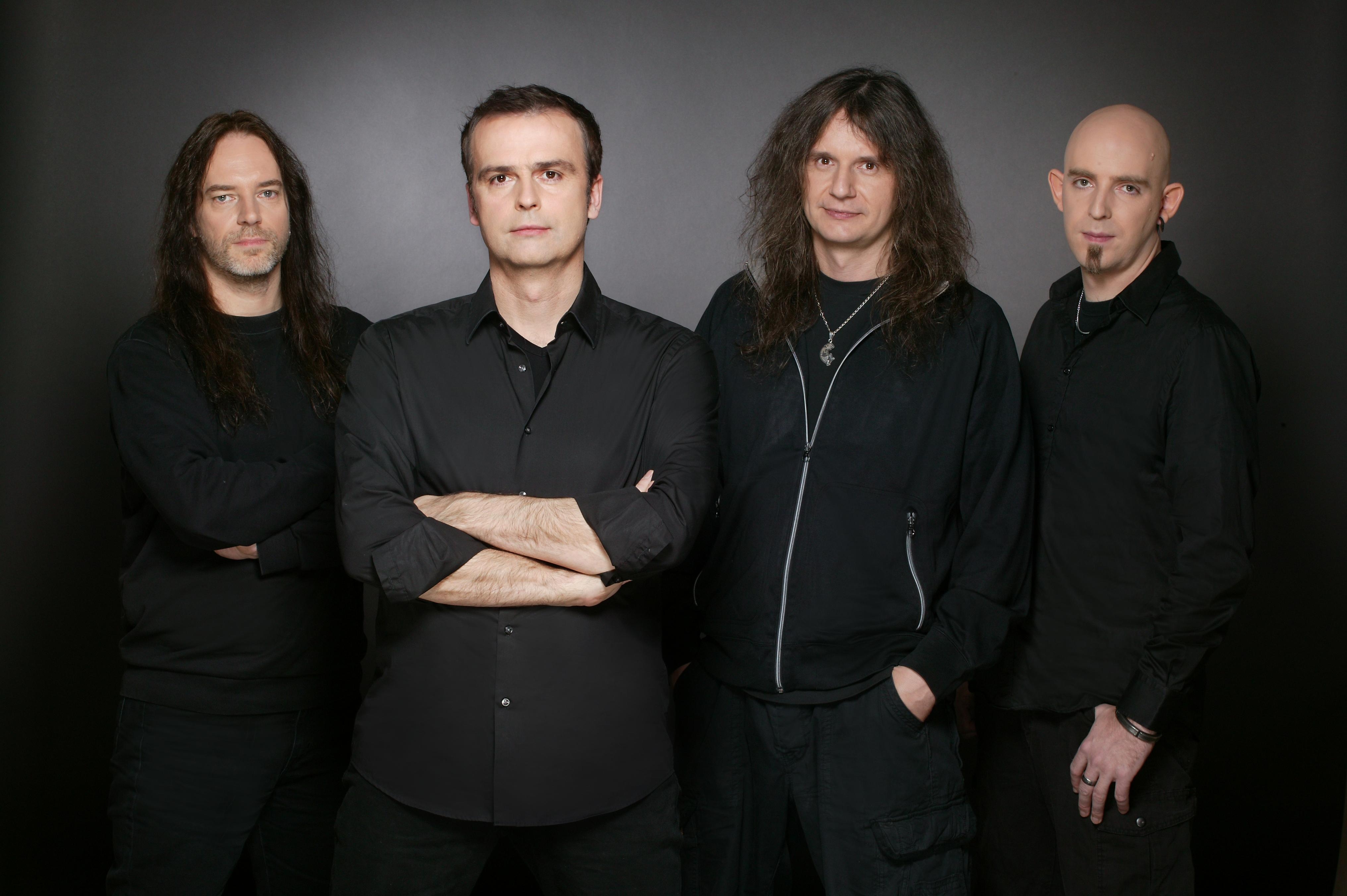 The German metal band Blind Guardian has been noted for its influence on the power metal and speed metal genres, but over time their music has become known as too progressive to be pigeonholed into those genres.
Formed as Lucifer's Heritage in 1984 by vocalist/bassist Hansi Kürsch and guitarist André Olbrich, the band experienced some growing pains while releasing their first demos to the world. Then, upon signing it's first record deal, the band's name was changed to Blind Guardian, and since has been a solid, dependable unit that has created nine strong studio albums and a loyal brand of fans worldwide.
The band's latest release, Memories of a Time to Come, is a compilation — a celebration of Blind Guardian's history, if you will. It is the kind of compilation that Powerline's own Marc Garrison called "amazingly fresh" (read Powerline's full review of the album here).
The following is an interview with vocalist Hansi Kürsch who was kind enough to take time out during his busy schedule [Note: Kürsch is also the lead singer of the band Demons and Wizards with Jon Schaffer of Iced Earth].


Do you have to pinch yourselves sometimes that it has already been all these years since the band's inception?
Hansi Kürsch: Not really. Even though we did not think about time when we established Blind Guardian back in the '80s. It was obvious, that this was going to be our lifetime project. But it simply does not feel like we are doing this for almost thirty years, now.
Even some of the greatest bands have had short life spans.
Kürsch: As said, we really did not think about a time span, but we had considered our chances to become popular as very high. A curse and a gift at the same time, we call a few typical German qualities our own: We were very dedicated and precise in designing our music from the very first moment and we called that our number one priority over all these years. This, of course, changed a little bit once we became fathers.


Do you think the band would have found the same amount of success under the name Lucifer's Heritage?
Kürsch: A definite"no." It would have been impossible, I dare to say. The people, who might have been interested in our music, would most probably not have listened to it. And the 80´s Black Metal fan, who might have been attracted by the name, would have found his or her newest discovery as extremely annoying.
Obviously you thought the old name would hinder what the band was trying to achieve long term, no?
Kürsch: A short term career would have been granted. The British heavy metal band 'Satan' is a good example for the wrong name. What a great band, but many people simply did not listen to them, just because of the name, I would guess. Satan would be a great name for any Black Metal band, I could imagine.
Lucifer Heritage demos were included in a deluxe version digipak of the Memories of a Time To Come album. Do you still have a fondness for those demos?
Kürsch: I, at least, can understand, why we have considered ourselves talented back then. I can figure potentially good songs, inspired by other potentially good music. It has been another time and the demands of the media and the underground kid have been completely different. Nowadays young bands may perform stronger, but they sometimes lack that particular piece of individuality, which these demo songs have. For the time, those were highly professional recorded demos. Of course, not everything glittering turned out to be gold, but "Majesty" still is a nice song, for example. For us these demos have been perfect openers, because we were able to improve.
It was a special time in the '80s, wasn't it, when metalheads traded demos? Demos were almost as important as an official record release.
Kürsch: 
Yes, that´s true. Even in North America, there was that movement. It has been great. We were proud, when we got our first positive reviews in small American fanzines. The dedicated underground was very well connected. There were small record companies trying to get a piece of the cake and Europe was going nuts for Metal. Still it was difficult for a German, or Italian band to establish its brand in a bigger way. The first years, mostly American and English band dominated. I would still say, it is more difficult for a German to become big in either of the two countries, than the other way around an English band becomes big in Germany.
[pullquote_right]It is impossible to please everybody, but we once more have pleased ourselves. I always consider this the highest quality mark, because we are very critical about ourselves.[/pullquote_right]
Are you pleased with the overall presentation of "Memories of a Time To Come"? In your opinion, is it a good enough time capsule to appease current fans and convert new ones?
Kürsch: Yes, otherwise we would not have released this album. We certainly still do fan-orientated music, so this album needed to be interesting for the old school fan as well as for the newbie. The album is still doing nicely, which is a good sign. The feedback we have gotten is very strong, too. It is impossible to please everybody, but we once more have pleased ourselves. I always consider this the highest quality mark, because we are very critical about ourselves.
Was it hard to revisit certain classic songs and have them remixed and redone?
Kürsch: No, it has not been hard, but sometimes very surprising and we were confronted with unexpected difficulties, many times.
I get a sense that you did not want this be seen as a best-of collection?
Kürsch: In a certain way, you are right. I consider such a collection as an offense against our other songs anyway. Having four band members with different tastes has made this a compromise collection from the first moment on. We are a 'live' and an 'album' band. So generally there is no single hit wonder to be expected. Apart from "And Then There Was Silence" — which has been a number one single in Spain for a few weeks. Now that I think about it, we are a 'One Hit Wonder' band. Wow!
You claim in your liner notes that the song "Follow the Blind" was a "first, very shy" attempt to work classical orchestrations into Blind Guardian. In other words, was it a litmus test to see how the fan reception would be?
Kürsch: One more necessary lie, because I did not know what else to say about the song! We never really thought about what could attract people or how to find new ingredients. We were very confident about our taste. The few combined classical elements sounded like a complete orchestra to us and very authentic. It was a completely different time.
Is there a fine line with classical orchestrations where complex may become bombastic? How do you judge that when composing a song in the studio?
Kürsch: Still the strongest indication for us is our own judgment in terms of like and dislike. Other than that it is a process of trial and error. There sometimes is a clear vision about a piece of music and it will be produced as intended but as soon as there are more than two people exchanging ideas, visions will be mixed to accomplish an even better output. But I do not think that something would change from complex to bombast due to such a progress. The structure of most of our songs and the multi-layering of ideas at particular parts are complex and demand attention, while other parts are simply bombastic and strike the listener immediately. The combination of both in our music might be one of the strongest qualities of Blind Guardian.
With songs as long as 14-minutes, is it safe to say that there must have been prog rock influences on the band? If so, what are they?

Kürsch:  Of course we are attracted by prog rock. I have no idea how big the influence in general is. We consider ourselves as a Metal band and that´s where most of the musical influences come from. Even though I admire bands like Gentle Giant, ELP, Genesis and so on. I would say that Fates Warning, Savatage and Queensryche are our inspirations with regard to the genre, although they are not directly called prog rock.
[pullquote_right]We have a very good relationship with Kai [Hansen] and Helloween. They belong to the nicest people you can imagine.[/pullquote_right]
Your musical style has been called power metal, speed metal, thrash, progressive … even bard metal  … Doesn't it get tiring to hear all these labels?
Kürsch: As long as people talk, everything is fine. One of the best things which can happen to a band is that it is categorized by its own trademark, so I am very fine with Bard or Fantasy Metal. Luckily, it seems to be difficult to categorize us. Sometimes I am getting more confused by the bands we are compared with.


Blind Guardian's first two albums, Battalions of Fear and Follow the Blind, were more in the style of speed metal than their following works.
Kürsch: 
Depending on the point of view. They certainly are easier to categorize. Speed in terms of music is so much a matter of understanding and one´s musical point of view. I, personally, think we have accomplished many faster songs afterwards. Some fans may disagree about that. It really is a matter of perspectives. Both albums were strongly related to the spirit and the musical understanding of the late '80s.
And then there's the term "German Metal." Germany has represented heavy metal very well for decades with bands like Scorpions, Accept, Helloween … Is there a certain German sound to you — even subtle? Were you influenced by these bands and did you ever get a chance to form a camaraderie with them?
Kürsch: Yes and No. The Scorpions and Accept have not been our number one bands, but are always very well respected by us, while Helloween can be seen as a strong inspiration for Blind Guardian. There were other bands, of course, but when we listened to the Helloween outputs in the mid-'80s, we knew our mission. We have a very good relationship with Kai [Hansen] and Helloween. They belong to the nicest people you can imagine.
Do you feel that you have captured the American market well enough?
Kürsch: No, not at all. It took almost 12 years to get a foot in the door and another 13 years to introduce ourselves. That´s all what has happened so far. I believe, that the Northern American market, especially the U.S. market, is about to become aware of the band in a more mainstream-ish manner. Quality music will be rediscovered by the people.
[pullquote_left]The British heavy metal band Satan is a good example for the wrong name. What a great band, but many people simply did not listen to them, just because of the name, I would guess.[/pullquote_left]
In America the term power ballad comes with some negative connotations of it being a wimpy song from a hair band. However, Blind Guardian's European style of power ballads, if you will, are a lot more riveting and mature. Songs such as "Lord of the Rings" and "The Bard's Song," for instance. Is it harder to write a power ballad than a regular metal song?
Kürsch: Depending on the composer. To Marcus [Siepen, guitars] or me, a power ballad usually comes more natural, while for André [Olbrich, lead guitar], it most probably would be a straight-forward song such as "Another Stranger Me," which might come more natural. The regular heavy stuff such as "Tanelorn" or "Imaginations" require a lot of detailed work and serious thoughts, because they are not written on a nice and sunny afternoon, but over months. So they are definitely harder to compose.
The EMI Music Exclusive Studio Session raised a great deal of money to help Japan's tsunami victims. Helping people like that must go beyond any kind of feeling or experience.
Kürsch: Therefore charities are a wonderful thing. We have wonderful fans, who luckily were willing to donate, too. Japan is such a great country and the people deserve a future.
Will there be a new Demons and Wizards album and how does that interfere with Blind Guardian's scheduling?
Kürsch: I hope, it will not interfere a lot, which means: "Yes, there will be another Demons and Wizards album" and there should be enough time to combine Jon [Schaffer, Iced Earth]and my schedule between the next two years, so we will have an album ready by the end of 2014, too.
Some newer fans might not know about the band's connection with The Lord of the Rings trilogy.
Kürsch: I hope people know. Some fans even call us Tolkien Metal. I think, this explains a lot. We certainly used Tolkien´s work as an inspiration and many people say we did justice to the stories.
What's the update on an orchestral project for Blind Guardian? Is it still slated for 2013?
Kürsch: 2013 sounds a little ambitious at the moment. I am hoping for 2014. This could be a great year. Ever since A Night at the Opera, my goal is to release the orchestral album the same year we are going to release the studio album. In vain, so far. But I will never give up hope.
Other more immediate plans and goals for the band?
Kürsch: We have just started songwriting and we are all really excited about it. My goal is a double release in 2014 for Blind Guardian and a 2015 release for Demons and Wizards. Let's cross our fingers.