The Darkness to join Lady Gaga European tour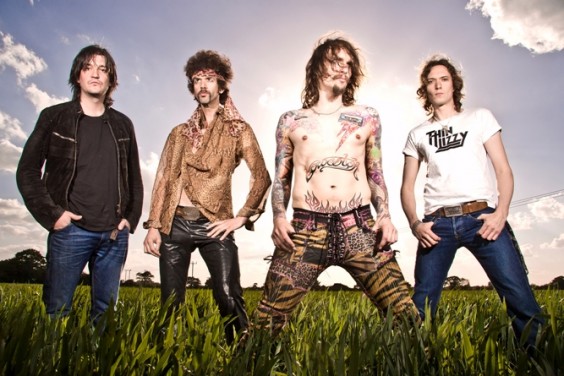 After sold-out crowds with their U.S. tour last month, THE DARKNESS announced they'll join Lady Gaga's 'Born This Way Ball' Tour' for Summer 2012. Invited by Gaga herself, THE DARKNESS will provide main support for the dates across Europe. Before joining Lady Gaga, THE DARKNESS return to Australia for the first time in six years (their Melbourne show sold out within an hour this past Friday). Next, they'll head to the U.S. in May for select dates as well as three festival appearances: Saturday, May 19 at InfieldFest (Baltimore, MD), Sunday, May 20 at Rock On The Range (Columbus, OH) and Saturday, May 26 at Rocklahoma. They'll perform festivals across the U.K. and Europe as well as a hometown outdoor headlining gig at Thetford Fest in Suffolk before teaming up with Lady Gaga. See all confirmed dates below, and tickets are available now at: www.theactualdarkness.com.
"I've been living with my Lady Gaga secret for many moons and it's such a relief to be able to tell folk at last. I was beginning to go insane," says lead vocalist JUSTIN HAWKINS. "She is the best pop star of the 21st century bar none and we're honoured to have been selected. 2012 has been the most brilliant of years so far, and it's about to get even more magnificent!"
Since THE DARKNESS–JUSTIN HAWKINS (vocals/guitars), DAN HAWKINS (guitars/backing vocals), FRANKIE POULLAIN (bass) and ED GRAHAM (drums)–resumed active service almost 12 months ago on the main stage of 2011's Download Festival with their original line-up, the British group have accomplished a lot. They've completed sold out tours of the UK and North America; were featured in a Superbowl ad (broadcast to over 100 million viewers in the tense fourth quarter of the game); finished recording their long-awaited third album and first offering in eight years (as-yet-untitled, release date TBA); and released a free teaser track and video, 'Nothing's Gonna Stop Us'.
Due out late summer, the album marks the follow-up to the group's multi-platinum debut Permission To Land–which spawned fan favorites "I Believe In A Thing Called Love" and "Get Your Hands Off My Woman–as well as the revered One-Way Ticket To Hell And Back which featured "One Way Ticket" and "Is It Just Me?"
THE DARKNESS dates below with LADY GAGA:
Tue 8/14
Sofia,Bulgaria
VasilLevskiNationalStadium
Thu 8/16
Bucharest,Romania
ArenaNationalaStadium
Sat 8/18
Vienna,Austria
WienerStadhalle
Tue
8/21
Vilnius,Lithuania
VingisPark
Thu
8/23
Riga,Latvia
Mezaparks
Sat
8/25
Tallinn
TallinnSongFestivalGrounds
Mon
8/27
Helsinki,Finland
HartwellArena
Thu
8/30
Stockholm,Sweden
EricssonGlobe
Sun
9/2
Copenhagen,Denmark
ParkenStadium
Tue
9/4
Koln,Germany
LanxessArena
Sat
9/8
London,UK
Twickenham
Tue
9/11
Manchester,UK
EveningNewsArena
Sat
9/15
Dublin.Ireland
AvivaStadium
Mon
9/17
Amsterdam,Netherlands
ZiggoDome
Sat
9/22
Paris,France
StadedeFrance
Mon
9/24
Hannover,Germany
TUIArena
Wed
9/26
Zurich,Switzerland
Hallenstadion
Sat
9/29
Antwerp,Belgium
Sportpaleis
Tue
10/2
Milan,Italy
MediolanumForum
Thu
10/4
Nice,France
StadeCharles-Ehrmann
Sat
10/6
Barcelona,Spain
PalauStJordi