Animetal USA excited about today's concert performance at Anime Expo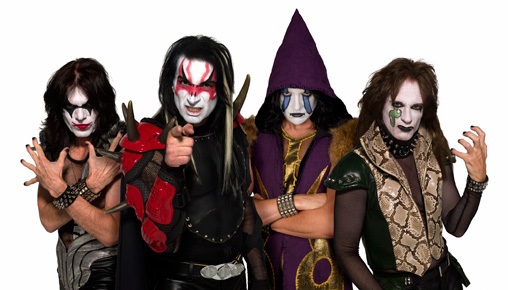 The band Animetal USA will play this afternoon (5:30 PST) at the Anime Expo  —  6/29 – 7/2, 2012 at the Los Angeles Convention Center and it marks their first U.S. performance.
Animetal USA is made up of four veteran heavy metal musicians: singer Mike Vescera (Obsession/ex-Loudness) starring as METAL-RIDER, bassist Rudy Sarzo (Blue Oyster Cult, ex-Ozzy Osbourne, Quiet Riot, Whitesnake, Dio) as STORMBRINGER, guitarist Chris Impellitteri (Impellitteri ) as SPEED KING, and drummer Jon Dette (ex-Slayer, Testament). Animetal USA's music is a speed metal tribute to the phenomenon of anime – a style of animation originating in Japan (and Animetal USA is based on the original Japanese band, Animetal) — complete with anime-influenced make-up and costumes. The band also features English-language heavy metal covers of anime theme songs.
The band members are extremely excited about the opportunity of playing their first U.S. show at this very popular expo. "Basically there's going to be like a quarter of a million people down here — when I say down here, it's pretty much the heart of Los Angeles," guitarist Chris Impellitteri (far right in photo) tells Powerline. "All of downtown L.A. gets kind of taken over by the whole anime world. It's really insane. It's kind of like the equivalent of Mardi Gras except for people who are really into anime. People dress up in costumes, make-up and characters. It's not just open to an industry. It's open to the public, so this thing becomes really massive."
If you are at Anime Expo and can't make today's performance, there is still a chance to meet the band during tomorrow's events. Tomorrow at the Anime Expo there will be a band panel discussion, autograph session and photo ops starting at noon. Go to anime-expo.org for more detailed information.