NWOBHM's Tygers of Pan Tang are back with studio album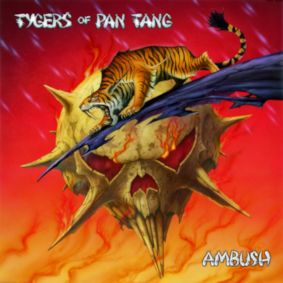 The New Wave of British Heavy Metal band TYGERS OF PAN TANG will release a brand new album, Ambush, on September 24, celebrating a landmark year in the band's history.
Ambush features 11 tracks of melodic rock, recorded and produced by Chris Tsangarides who produced the band's historic Wild Cat and Spellbound albums in 1980 and 1981, respectively. Those early efforts were critically acclaimed and similarly revered by fans, as was the TYGERS' most recent LP, Animal Instinct.
With a truly impressive piece of cover art by Rodney Matthews who originally worked with the band on the iconic Crazy Nights album cover and with audio mastering by Ian Cooper ("Wild Cat" and "Spellbound" albums), some three decades on, the TYGERS have assembled a team which understands and lives up to their heritage.
Ambush track listing:
01. Keeping Me Alive
02. These Eyes
03. One Of A Kind
04. Rock & Roll Dream
05. She
06. Man On Fire
07. Play To Win
08. Burning Desire
09. Hey Suzie
10. Mr. Indispensable
11. Speed
Fans can get a free MP3 download of "Speed" and also watch a trailer video at the Rocksector Records web site. They can also find details of how to pre-order the album from August 1, including an option for a special limited edition fanpack.
TYGERS OF PAN TANG is:
Robb Weir – Guitar
Jacopo Meille – Vocals
Dean Robertson – Guitar
Gavin Gray – Bass
Craig Ellis – Drums/Percussion