Gravehill borrows Witchhaven musicians for tour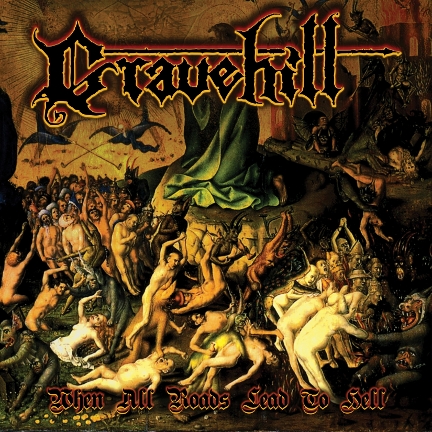 California death horde Gravehill announced a string of dates with Singapore's blackened death/thrash masters Impiety. Due to scheduling conflicts with guitarists Hellfiend and BodyBag, Gravehill has enlisted Henry Montoya & Erik Sneve of Witchhaven to fill the vacant guitar positions. Gravehill dates with Impiety are as follows:
Friday – 11.4.11 @ Studio Seven – Seattle, WA
Saturday – 11.5.11 @ Plan 9 – Portland, OR
Sunday – 11.6.11 @ Sub-Mission – San Francisco, CA
Friday – 11.11.11 @ The Black Castle – Los Angeles, CA
Saturday – 11.12.11 @ Metaphor Cafe – Escondido, CA
Hellfiend and BodyBag will reconvene with GRAVEHILL on November 18th for the band's appearance at the 5th Annual Goregrowler's Ball in San Antonio, TX as well as a FREE SHOW with EXHUMED
back in SoCal on November 21st!
Friday – 11.18.11 @ Korova – San Antonio, TX – GOREGROWLER'S BALL
Monday – 11.21.11 @ The Sidebar Rock N' Roll Cafe – Fullerton, CA
Gravehill released When All Roads Lead To Hell on May 20th through Dark Descent Records. The vinyl edition of When All Roads Lead To Hell is now available for pre-order through Chaos Records. This 12″ LP is limited to 500 copies worldwide; 200 bronze colored w/ exclusive logo patch (DIE HARD version) and 200 classic black. Vinyl orders will ship after 10.20.11. Pre-orders are available here. German maniacs can order When All Roads Lead To Hell through www.FDA-Rekotz.com. The album is also available for purchase via www.DarkDescentRecords.com