Powerline's 'Best of 2011' list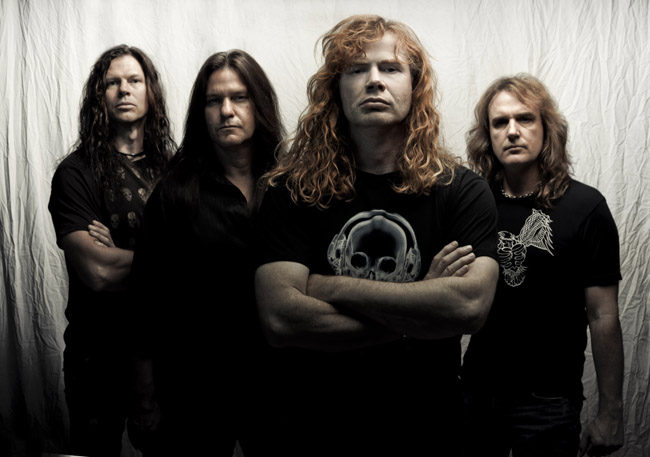 Metal Artist of the Year: Megadeth (above)
Dave Mustaine plays in pain at The Big Four gigs (with Anthrax, Slayer and Metallica), gets neck surgery and then releases one of the band's best albums in years (with bassist Dave Ellefson back in the fold). A great outcome to 2011. Now the band is about to deliver its Gigantour to conquer 2012. Check out Powerline's recent interview with Megadeth's Dave Mustaine by clicking here. Then read one from 1987 in the Powerline Archives.

Best Metal Album: Anthrax, Worship Music (Megaforce Records)
Could have — easily — picked Megadeth's Thirteen here. But this disc is just as good — and vocalist Joey Belladonna's back. What a voice, and what a welcome return! He makes a great album a little bit better. Gotta appreciate the John Bush years but geeez … this proves that Belladonna's voice is an integral part of the Anthrax sound. He should remain their singer until the end. Read Powerline's interview with guitarist Scott Ian and drummer Charlie Benante here. And check out Powerline photographs of Anthrax on their latest tour.

Best Metal Song: Megadeth — "Deadly Nightshade" (off of the album Thirteen on Roadrunner Records)
Fantastic metal song. A bit of a throwback to classic metal. It blows away any song released by any other metal band this year. "We The People" might have better lyrics but, overall, this song wins out on the new album. In fact, this is one of Megadeth's best songs in their entire catalog. Sooooooo damn good. Check out Powerline's review of Thirteen here.

Best Metal Comeback: Riot
Don't call it a comeback — Riot has been around in some form or another for many years. But you can call it a 'revamp' because it's the return of the classic 1988 Thundersteel lineup — and what a lineup it is! With vocalist Tony Moore leading the charge on the new album Immortal Soul, it's power metal at its finest. Check out Powerline's recent interview with Riot guitarist Mark Reale by clicking here.

Best New Metal Band: Tornado
The band declares that the birth of its sound is "as if SLAYER fucked MOTLEY CRÜE." Hmmnnn. But what you certainly do hear is one kickass band that sounds more like Anthrax than anything else. And that's a good thing. In the words of singer Superstar Joey Severance (that's right, he's named "Superstar"): "While we, Tornado, are not reinventing the ride, we certainly are pimping it up." Classic thrash with a layer of sleeze. Check out the band's MySpace page here.

Best New Hard Rock Band: The Stone Chiefs
You might be pissed if you haven't heard this band yet. Think of the Southern-fried feel of Black Crowes meeting the New England swagger of Aerosmith. Classic hard rock sound, quality music. And this is just the beginning. Start it off with the disc Drive On and realize what this band is capable of. To read a Powerline review of The Stone Chiefs album, Drive On, click here. To check out an interview with the Stone Chiefs guitarist Aaron Wiig, go here.

Best Prog Metal Band: Arch/Matheos
Wow. Former Fates Warning vocalist John Arch is back in a big way! Arch teams up with Fates guitarist Jim Matheos to deliver the prog metal masterpiece Sympathetic Resonance — and the rest of the musicians on the album (Joey Vera on bass, Bobby Jarzombek on drums, and Frank Aresti) are also at their best. A must-have disc that even beats out Dream Theater's new release for best Progressive Metal album of the year. Stunning stuff. Read a Powerline interview with John Arch by clicking here.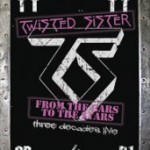 Best Concert DVD: Twisted Sister From the Bars to the Stars: Three Decades Live (Eagle Rock Entertainment)
The bars. That is where it all started. That is the spark that gave birth to Twisted Sister. This 8 hour-plus concert footage is lovingly presented for any Twisted fan's archive. Let's face it, this band is not just a classic metal band but an American institution. This footage shows why. The box set also includes cool stuff like a Twisted Sister Christmas ornament, an official "New York Steel" backstage pass, a classic Twisted Sister pin and a copy of the first SMF Fan Club letter. Click here and check out a recent Dee Snider interview posted on Powerline, as the legendary Twisted Sister frontman discusses the band's legacy.

Best Documentary DVD: God Bless Ozzy Osbourne (Eagle Rock Entertainment)
Forget all you've heard (and all that you've seen on the Osbournes MTV series). There's more to Ozzy Osbourne than meets the eye. Some of it cool, some of it sad, some of it disturbing and a whole lot of it soul-touching. The directors, Mike Fleiss and Mike Piscitelli, do a solid job — and son Jack Osbourne produced it. It comes with some great, non-filler commentary, too. Bravo. For full Powerline review, click here.

Best Hard Rock Compilation: UFO — Chrysalis Years 1973-1979 (Capitol)
This compilation captures UFO's best years (with the immortal guitar playing of Michael Schenker). The only setback is the exclusion of albums like No Place To Run (1980) and The Wild, the Willing and the Innocent (1981) — two great (but often underrated) UFO/Chrysalis pairings. Hmnn. But that can be overlooked. After all, from 1973 to 1979, UFO created some of the best hard rock ever put onto record. For a review of UFO's new 2012 album, click here (it's a good one!)

Best Metal Compilation: Judas Priest — The Chosen Few (Sony Legacy)
What makes this compilation better than most? The tracks were chosen by other renowned hard rock/metal artists. A few of the picks are questionable but most are downright perfect. Sony Legacy put out a fantastic Judas Priest live compilation in 2010, part of their CD series called "Setlist." They follow that one up quite nicely in 2011 with The Chosen Few.

Best Box Set: Queen 40 Limited Edition Collector's Box Set (Hollywood Records)
How could you not like a box set of Queen's first five albums?! Queen, Queen II, Sheer Heart Attack, A Night At the Opera and A Day At the Races are all here in their glory with excellent (quite excellent!) bonus tracks. You can compare the quality of demos and b-sides, which were, to be honest, quite good (i.e., "See What A Fool I've Been" at a 1973 BBC session). And this box set is the one to get (better than the box sets 2 and 3, of Queen's later albums) to celebrate 40 years of a legendary band.

Best Live Album: Slash — Made in Stoke 24/7/11 (Eagle Rock Entertainment)
Yes, Slash still has the mojo. All you have to do is go to one of his live shows. In the meantime, here's the next best thing. Slash and his hired guns (no pun intended) on the road in 2011. And powerhouse vocalist Myles Kennedy is a super addition to the Slash sound. The best live album of the year. Comes with a live DVD sample of the show, too! To read a full Powerline review of the album, click here.

Best Metal Reissue: Megadeth — Peace Sells … But Who's Buying (Capitol)
To honor its anniversary, Capitol reissued this classic album. It includes an amazing, historical show — a previously unreleased 1987 concert — as the extra disc. That's worth the price right there! After all, Mustaine does not play a song like "The Conjuring" live anymore. You have to get it on packages like this one. As far as this classic album is concerned, this is the 25th Anniversary Edition and completely remastered. Enough said!

Best Hard Rock Reissue: Jimi Hendrix — Hendrix in the West (Sony Legacy)
Everyone from K.K. Downing to Yngwie Malmsteen was influenced by Jimi Hendrix (K.K. once followed him around like a damn groupie!). He was a hard rock/heavy metal guitar god. And here's the proof. Sony Legacy released this long-awaited disc to the masses in 2011 and it's a great payoff. This digitally remastered and expanded edition includes five bonus tracks. If you haven't heard a lot of Hendrix live, this is a great place to start. Some critics called some of these performances his best. Dig it!

Best Vinyl Record Release: Riot — Fire Down Under (Audio Fidelity)
And an audiophile release to boot! (superior quality 180 gram virgin vinyl). Audio Fidelity reissues one of the greatest hard rock albums of all time on vinyl. Whether you haven't heard it or already treasure it, this is the piece of vinyl to pick up. Fire Down Under is the album that got the band Riot recognized. And it's easy to understand why when you listen to a song like "Swords and Tequila." To read an article on how this reissue came to be, click here.

Best Book: Eddie Trunk's Essential Hard Rock and Heavy Metal (Abrams Image)
This is the perfect book for the Powerline reader because metal household name Eddie Trunk lives and breathes vintage hard rock/heavy metal, too! This is part guide and part memoir, as Eddie Trunk takes you through his personal experiences with the most influential bands out there. And it's important to take Trunk's words to heart. Trunk was there when it all started. And he has good taste. Evidence of this is his all-time favorite band pick: UFO. Now that's honest to goodness class!

Best FAQ Book: Black Sabbath FAQ – All That's Left to Know on the First Name in Metal by Martin Popoff (Hal Leonard Corporation)
All the facts you need to know about Black Sabbath are set here in an intriguing way. Metal scribe Martin Popoff knows how to entertain the reader while educating them on the heaviest music around. And he's done it for years. This is the latest and greatest of that kind of style. Lots of good unearthing and debunking of Sabbath lore.

Best Biography: Enter Night. A Biography of Metallica by Mick Wall (St. Martin's Press)
A favorite of this magazine since his Powerline article "Ozzy Gabs in Rehab," veteran rock journalist Mick Wall is hands down the best music biographer out there. With Enter Night he is able to match his brillaint Led Zeppelin biography When Giants Walked the Earth with a Metallica masterpiece. The documentary film Some Kind of Monster was merely a glimpse into metal's most popular band. This is the whole package. From the modest beginning with Dave Mustaine to the tragic death of bassist Cliff Burton. It covers it all like it was never covered before. An absolute must for any true metal fan's bookshelf.

Best Tour: Judas Priest, Epitaph tour, 2011 –
Sure, Priest goes on without guitarist/founder K.K. Downing, and, yeah, that certainly sucks… but the band finally plays the immortal song "Never Satisfied" on this tour. How can you beat that?! Click here and find out what Judas Priest bassist Ian Hill has to say to Powerline about the Epitaph Tour.