Andy Timmons Band brought NYC electricity and memories together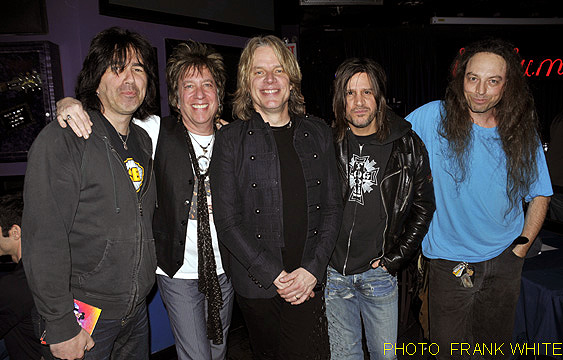 Guitarist Andy Timmons (ex-Danger Danger) brought his band to New York City to rock the Iridium club on March 19. Frank White was there to take the shots. As you will see in the gallery below, Lou Pallo of the Les Paul Trio came up onstage and jammed with Timmons, making for an eventful night. Backstage after the show, Timmons' ex-bandmates in Danger Danger hung out and congratulated the guitarist for a rockin' good night (above photo, Danger Danger members Bruno Ravel, Timmons, Steve West and Kasey Smith with former Blackheart guitarist Ricky Byrd, who is second from left). Jac and Jill were also there to join the party.
To read a recent Powerline interview with Andy Timmons click here.