Working from 'Eve to Dawn' with Japan's Loudness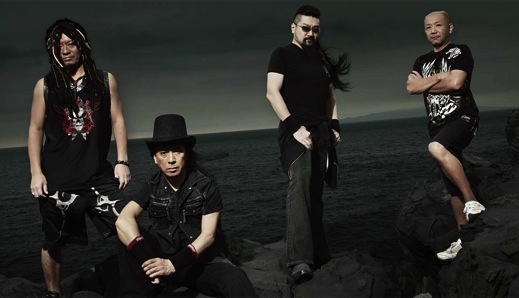 Unaccustomed to the – shall we say – "enthusiasm" of American audiences, Loudness singer Minoru Niihara was greatly taken aback by the uninhibited behavior of rowdy crowds they encountered in the U.S. as the support act for Motley Crue on their 1985 American tour. Japan's biggest heavy-metal export, Loudness, experienced all the insanity the road has to offer, and then some.
"They were crazy," laughs Niihara, referring to the U.S. concertgoers they encountered back then. "I remember one night, we opened for Motley Crue and it was some big arena and there was underwear flying at us. I was surprised by that."
[pullquote_right]I remember one night, we opened for Motley Crue and it was some big arena and there was underwear flying at us. I was surprised by that." — Loudness singer Minoru Niihara [/pullquote_right]
Coming off the unparalleled – at least by Japanese metal standards – success of their initial introduction to the world at large, Thunder in the East, Niihara and Loudness had already established a beachhead on these shores. Put out in January of '85, the LP had scratched and clawed its way to No. 74 on the American Billboard album charts and fought like hell to stay there 19 weeks, a feat no Japanese act has ever accomplished. They'd even played Madison Square Garden, another first for a Japanese rock band, on Aug. 14, 1985.
A far cry from the wilder and less polished work of Loudness's early Japan-only releases, Thunder in the East was the product of Los Angeles studio sessions with Ozzy Osbourne producer Max Norman and it kicked down doors that may never have opened for them had they done it any other way. Having signed to an international record label in 1984, becoming the first Japanese metal band to do so, Loudness had been slowly building momentum, and Thunder in the East was an attempt to harness it and propel the band forward.
"We thought it sounded different from our older albums," says Niihara, "and we really enjoyed it. It was the sound we were going for, and we were happy about that. I love 'Crazy Nights' and I like 'Run for Your Life' and 'Like Hell.' They are very great pieces of the album."
[pullquote_right]He's great. He's like Jimi Hendrix. He's very fast, very technical, and he can sometimes be an asshole. But, you have to be sometimes." — Niihara on Loudness guitarist  Akira Takasaki.[/pullquote_right]
Still beloved in their homeland, Loudness would be hard pressed to duplicate those sales these days, but with their scorching new album, Eve to Dawn, kicking and screaming violently against those who would doubt them, the band and its country of origin had bigger issues to grapple with during the making of it – namely, trying to deal with unimaginable destruction, human loss and even nuclear danger.
"I was trying to make songs to help the people of Japan, because when we recorded this album, it was right after the earthquakes [in 2011], so I wanted to help those people," said Niihara.
With defiant, life-affirming tracks like "Come Alive Again," "Survivor," "Hang Tough" and "Comes the Dawn," Loudness certainly has given their countrymen hope for a better tomorrow. And for the rest of the world, Eve to Dawn offers Niihara's demonic, live-wire vocals, furious, bone-crushing rhythms, and the maniacal fretwork of guitar savant Akira Takasaki. Niihara says Eve to Dawn combines the raw energy and reckless abandon of Loudness's early creations with the intense focus of 2010's King of Pain, the follow-up to 2009's The Everlasting, which wound up being the final recording of the classic Loudness lineup. Drummer Munetaka Higuchi, one of the founding members, died of liver cancer in 2008.
"The music did remind me of our older music and how it felt, and some of it reminded me of the last album, but it is very loud," said Niihara. "The album is very loud."
[pullquote_left]The music did remind me of our older music and how it felt … The album ['Eve to Dawn'] is very loud."  [/pullquote_left]
No one could ever accuse Loudness of being too quiet or soft. From the start, Loudness intended to push their amplifiers to the limits. Together in the more pop-oriented rock band Lazy, Higuchi and Takasaki broke off to form Loudness in 1981. Niihara, formerly of Earthshaker, gravitated to the newly created outfit, even though soul was his mistress back then, and a childhood friend of Takasaki's, Masayoshi Yamashita, joined up on bass. Assuming a bunker mentality in August of that year, Loudness hunkered down and spent three months creating their debut, The Birthday Eve – a riotous showcase for the dazzling guitar shredding of Takasaki.
As it turned out, The Birthday Eve would become an important record in the history of Japanese rock and roll, especially in light of Loudness's first concert. Held at Asakusa International Theater, the show drew around 2,700 people, a number that stunned the country's music industry.
[pullquote_right]I was trying to make songs to help the people of Japan." — Niihara on the songwriting of 'Eve to Dawn'[/pullquote_right]
Of that gig, Niihara said, "I was extremely nervous. Actually, I don't remember it, but I remember there were many people and they went crazy. Yeah, that was scary."
The match was struck, and word of Loudness spread like wildfire. Feverishly, audiences in Japan waited for another Loudness record, and in July, 1982, they delivered Devil Soldier, another step up on the band's evolutionary ladder. Hot on the heels of that effort, Loudness detonated The Law of the Devil's Land in January, 1983. By that time, with the help of American Daniel McClendon, Loudness had won over Japan with a triumvirate of high-quality, high-impact recordings, but they had grander ambitions.
Since there was a dearth of experienced heavy-metal studio hands in Japan, Loudness's wanted desperately to record with an English producer. Their 1983 tours of the U.S. and Europe had attracted a great deal of attention, and they were able to go outside Japan for help, securing Julian Mendelsohn – in demand due to his work on Yes's 90125 – as sound engineer for their fourth album, Disillusion. For the first time, Loudness left Japan to make an album.
"We had a name producer, who was English," said Niihara. "I thought it wouldn't be that different, but the recording was very different from Japanese studios. I thought we were good in Japan, but I was surprised. I was shocked by how clean [Disillusion] sounded and how heavy sounding they made it. We were very happy with it, and we had a good time, but we didn't like the food," he laughed.
Culinary disappointments aside, Britain offered Loudness a plethora of options when it came to producers and recording engineers. With an international record deal under their belts courtesy of Atlantic Records, Loudness headed into the studio with Norman to create Thunder in the East. Released in January 1985, Thunder in the East rose all the way to #4 in Japan, and it made significant inroads in the U.S. While the iron was hot, Loudness decided to strike, returning to the studio to tear through Shadows of War, again with Norman. Released in March 1986, the American version of the LP, titled Lightning Strikes, outdid Thunder in the East, vaulting all the way to #64 on the Billboard charts.
With the help of Norman, and then the legendary producer Eddie Kramer for 1987's Hurricane Eyes, Loudness had refined their sound to gain broader appeal. Some felt that Loudness had lost some of the aggression and fury that powered their early work. That was by design.
Asked if there were pressures from the label to make more accessible recordings, Niihara replied, "We wanted to make our albums more commercial than they used to be, but we played what we wanted to, and we liked it."
[pullquote_left]We wanted to make our albums more commercial than they used to be, but we played what we wanted to, and we liked it."[/pullquote_left]
So did their countrymen. In Japan, Loudness was revered, as tourists would return from America with glowing reports from U.S. heavy metal fans of the band's growing fandom. As a way of rewarding the loyalty of their Japanese audiences that had supported them through thick and thin, Loudness put out the 1988 mini-album Jealousy in Japan only – this after recording every album since Thunder in the East with lyrics in English.
From an outsider's perspective, it seemed everything was going swimmingly for Loudness, but all was not well within the Loudness camp, and by December 1988, Niihara was out of the band. There are varying reports as to what led to Niihara's departure, with some saying he left of his own volition. Niihara has a different point of view.
"I knew something was very wrong in the band," said Niihara. "Then, one day, Akira said I was leaving because they wanted another singer who could be very good with English lyrics. I was shocked, and I didn't want to leave. I didn't understand, but I just realized it was time to go."
To fill Niihara's shoes, after a lengthy period of frustrating auditions, Loudness picked former Obsession vocalist Mike Vescera in 1989, who debuted on the Soldier of Fortune album. He remained with Loudness through the 1991 LP Slap in the Face, after which Vescera left. Loudness carried on through the 1990s, establishing itself as one of the biggest bands in Japan with a flood of albums despite various lineup changes.
Around the time of the dawn of the new millennium, Takasaki started thinking seriously about getting the old band back together. With designs on reforming the original Loudness lineup, Niihara was approached about re-enlisting. Letting bygones be bygones, Niihara accepted, and a new chapter in the life of Loudness began. "Time heals everything, and I was happy to be with Loudness again," said Niihara. "When the band reformed, we wanted to play again, we wanted to make whatever we wanted, and we wanted to play outside Japan."
[pullquote_right]Time heals everything, and I was happy to be with Loudness again," said Niihara.[/pullquote_right]
Rejoicing at the return of their heroes, Japan welcomed Loudness's comeback LP Spiritual Canoe with open arms. A live DVD, "The Soldiers Just Came Back 2001," spoke volumes of the band's massive popularity in the country, and in September, Loudness blazed while on tour with Annihilator. Feeling their creative juices flowing, Loudness released Pandemonium in November 2001.
Working harder than ever, Loudness hit the road for the "20th Anniversary Pandemonium Tour," some of which was documented in another live DVD released in February 2002. Later that year, Loudness let Biosphere off the chain, again followed by a live DVD, "Live Biosphere." Slowing down wasn't an option for Loudness, as they produced the "Loud Fest" concert, featuring many of the bands they'd influenced. 2004 saw the release of Terror, the band's 18th album, and a performance at the annual "Sonic Mania" in Osaka and Tokyo, where they shared the stage with newer acts like Korn and Evanescence.
More live DVDs, records and tours were to come, including the albums Rockshocks and the Japanese version of Racing. All this led up to the Japanese release of the Loudness Box Set in 2007 – including the remastered albums The Birthday Eve, Devil Soldier, The Law of the Devil's Land, Disillusion, Thunder in the East, plus Takasaki's solo LP Tusk of Jaguar, Higuchi's solo record Haiki Gaisen Roku, a pair of DVDs , and a singles compilation with unreleased tracks.
In 2008, however, joy over the reunion turned to sadness as liver cancer took the life of Higuchi. Before he passed, though, Loudness finished a new record called The Everlasting. Even after such a devastating blow, Loudness had no intention of going away, and after hiring new drummer Masayuki Suzuki, they returned with King of Pain in 2010. European festivals and a tour followed, setting the stage for Eve to Dawn, Loudness's newest slab of molten metal – a prime example of the kind of serious rock 'n' roll firepower Loudness has at its command, and a showcase for Takasaki's sublime fretwork, a mix of Eddie Van Halen's dazzling speed and the more tortured artistry of an old master.
"He's great. He's like Jimi Hendrix. He's very fast, very technical, and he can sometimes be an asshole," laughs Niihara, who believes that Takasaki is a bit easier to deal with nowadays. "But, you have to be sometimes. He's got lots of ideas, but you know, he's 50 years old now, so he's very different."
It helps to have a little distance from each other. Niihara says does vocals at his house and then sends tapes of his work to the others. So, Loudness's writing and recording processes have changed somewhat. As for Eve to Dawn, Loudness has high hopes for the record.
"I hope people like it," said Niihara, now 51 years of age. "This is 24 years after the original lineup started to break apart. We have come a long way."
[divider]
Formerly the editor of Goldmine magazine, prior to the reign of one Patrick Prince, Peter Lindblad has been a music journalist for the last 10 years. His work has also appeared in Elmore magazine and Lostatsea.net, among other publications. He believes heavy metal has the power to cure the sick and make the blind see.