Helloween to release new album in 2013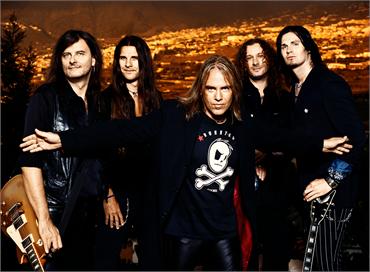 Helloween will release their latest studio album Straight Out Of Hell on January 22, 2013. It's a work full of speed and toughness, with optimism and great joy of playing, featuring complex arrangements, strong hooks and plenty of catchy melodies, due to the different songwriters Andi Deris, founding members Michael Weikath and Markus Großkopf, and guitarist Sascha Gerstner.
Weikath: "Straight Out Of Hell is the consequent development of the two albums before. 7 Sinners was recorded more or less in the wake of Gambling With The Devil, while the new songs are a continuation of the 7 Sinners directives, only a little less doom bound and noticeably more positive. These songs will kick even the laziest listener's ass."
Helloween's guitarist is referring to tracks such as "Make Fire Catch The Fly", "Far From the Stars", "Church Breaks Down", the title track (written by bass player Markus Großkopf), and the straightforward "Years" – all of them racing through the terrain at full speed. In addition, there is the complex and passionate "Burning Sun" by Michael Weikath, which Deris refers to short and sweet as "one of Weik's highspeed masterpieces" (the limited edition will feature a special Hammond version in memory of Deep Purple's recently deceased organ player Jon Lord).
Deris: "What's so special about this band, is the fact that we were always allowed to do anything we wanted, or – even if we allegedly weren't – did it anyway. Even the at the time slightly tabooed "The Dark Ride" initially earned us negative reviews, but ended up with multiple Gold Awards. That's the kind of freedom you feel on Straight Out Of Hell as well – we didn't let anybody or anything put pressure on us."
Also, there are significant differences in a number of topics Helloween tackle on Straight Out Of Hell. The best example of the ability to think outside the box of pure metal cliché is their first single release "Nabataea", which Helloween's singer wrote during a holiday. The song is about the legendary kingdom, located in today's Middle Eastern region, where the first real democracy existed over 3000 years ago. The secret Nabataean city Petra, hidden behind a cliff scenery and only discovered at the beginning of the 20th century, is the origin of many myths and legends.
Deris: "We took the liberty to tell this exciting culture's whole story, although the song therefore lasts more than seven minutes. Truth be told, if there had been more to tell, the track would have been even longer."